Is Winter coming? And you are going to need something to survive it? What's better than a Hat knitted by you? Confused Don't be. There always enough free knitted hat patterns online to choose from! Knitting a hat is quite easy, and you can learn new patterns quickly. Most new knitters learn circular or round knitting patterns using hats as their inspiration.
We have collected Top 10 crochet and knitted hat patterns for our users to give then a taste of the best hat knitting patterns available online! These are perfect for anyone to start with as we don't leave you hanging instead provide you with a video tutorial to understand the pattern without all that knit wit jargon of abbreviations.
1.
CROCHET PUFF STITCH BEANIE FREE HAT FREE PATTERN
So let's get started with the lovely puff stitch beanie pattern. As cute, it looks like it's that simple to make! We have included a video to make it easy for you to learn.

2. CROCHET EASY BEANIE HAT CROSS PUFF STITCH
This one is just as the title says – Easy. Have you started your hands on crochet yet? If not, then this is the type to give that crochet hook a spin. Check out the tutorial under the pattern.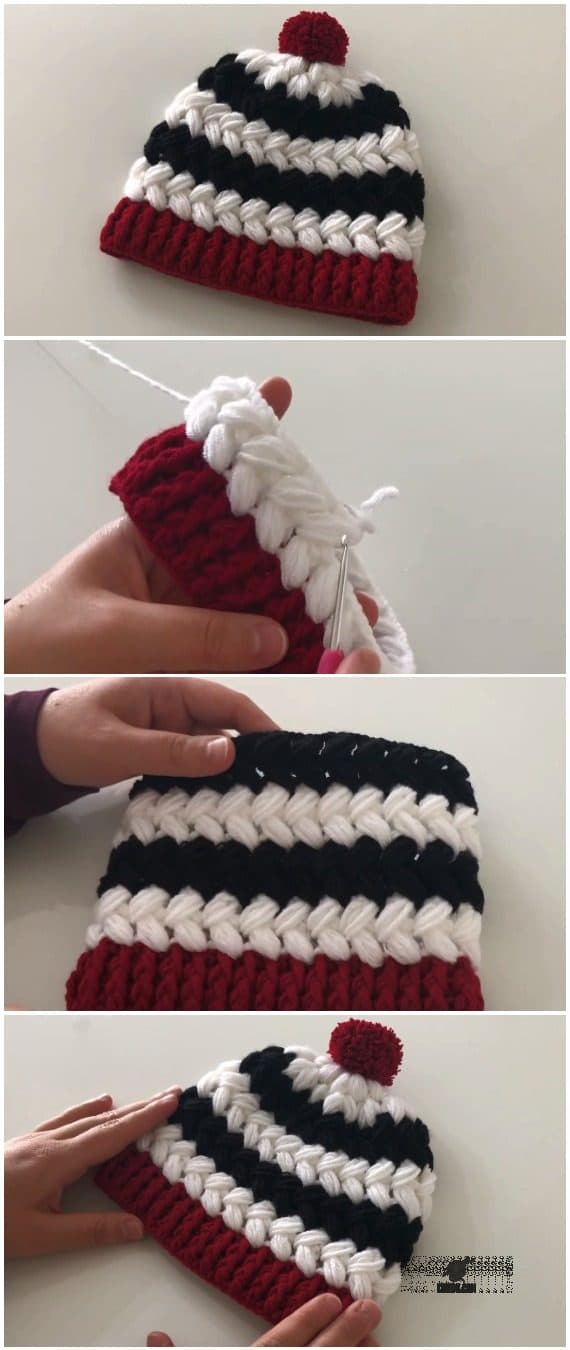 3. CROCHET BEANIE HAT PEACOCK FEATHERS
Peacock has its beautiful feathers, and you want them? "Are we going to pluck them?" You ask. Oh no! we are not. We are going to help you knit it for yourself. Below you see this nature's best design along with the video tutorial. 
4.CROCHET BEAUTIFUL EASY BEANIE HAT
Here's another attractive and yet easy design you can practice your hands-on. As always, it comes with a video walk-through.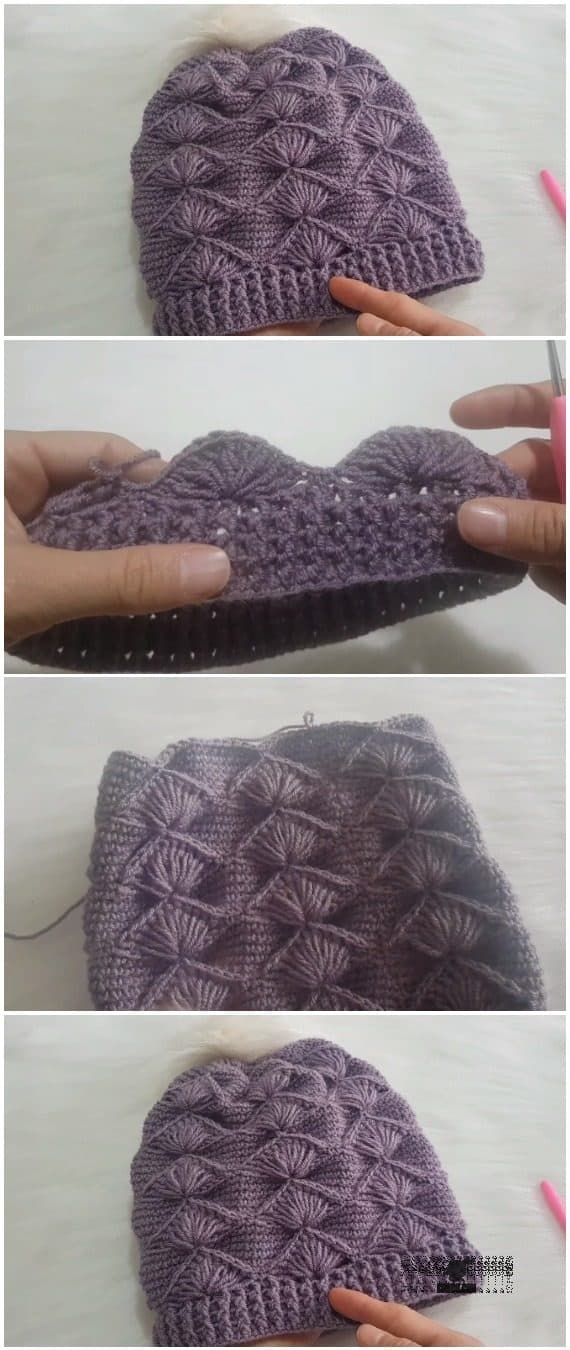 5. CROCHET EASY BEANIE HAT PATTERN
Another one yet easy to learn. It should take no more than an hour to finish. Beautiful design and simple to make. have a look through the video below.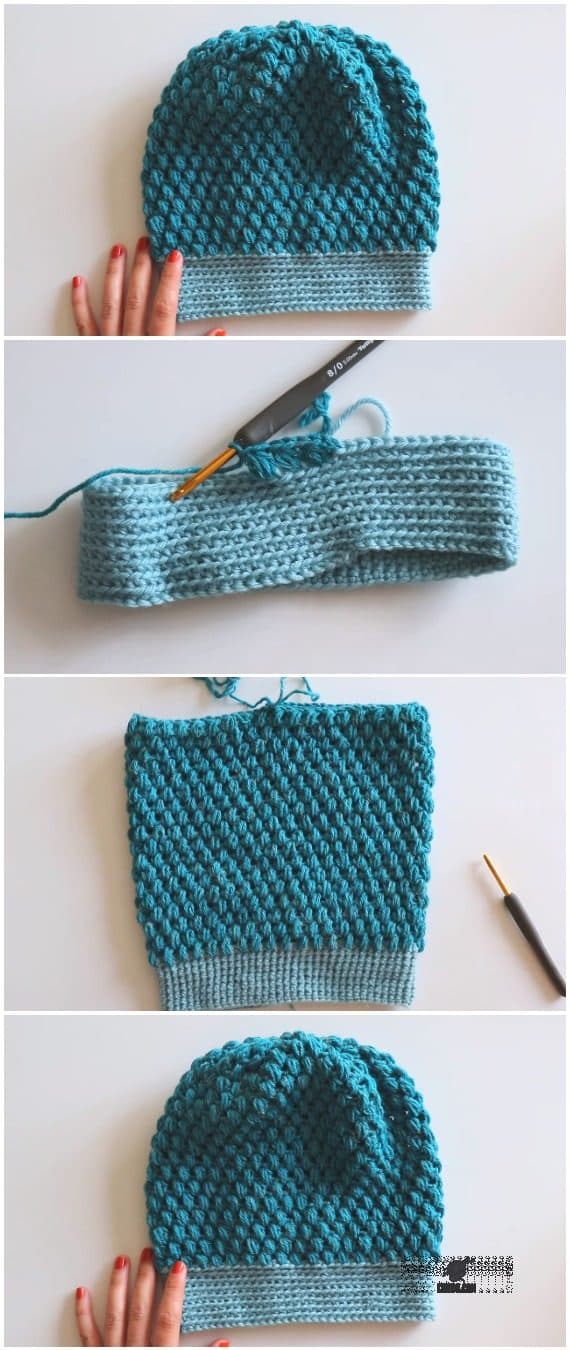 6. KNITTING PEANUT BEANIE HAT PUFF STITCH
A beautiful peanut beanie puff stitch with a yellow flower on it looks so elegant. Go through the video to make it happen!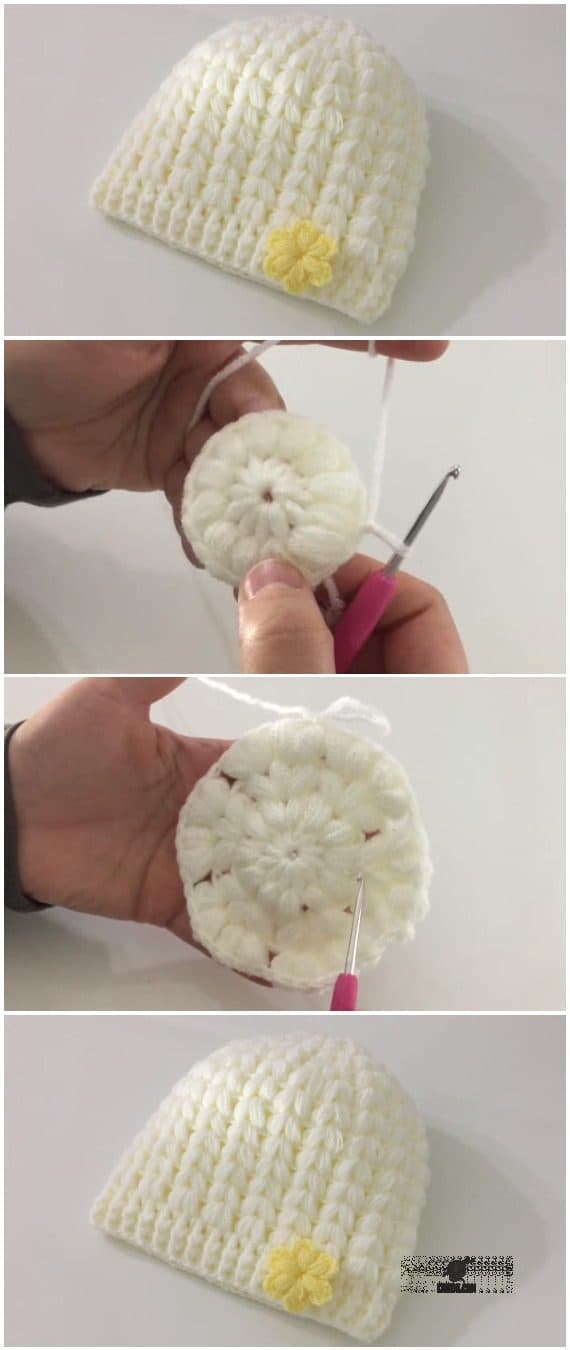 7.CROCHET BEANIE HAT POPCORN STITCH
See that puffed up pattern? Yes, that's the popcorn pattern. As comfy it looks it's warm enough to save you from the cold and damp winters!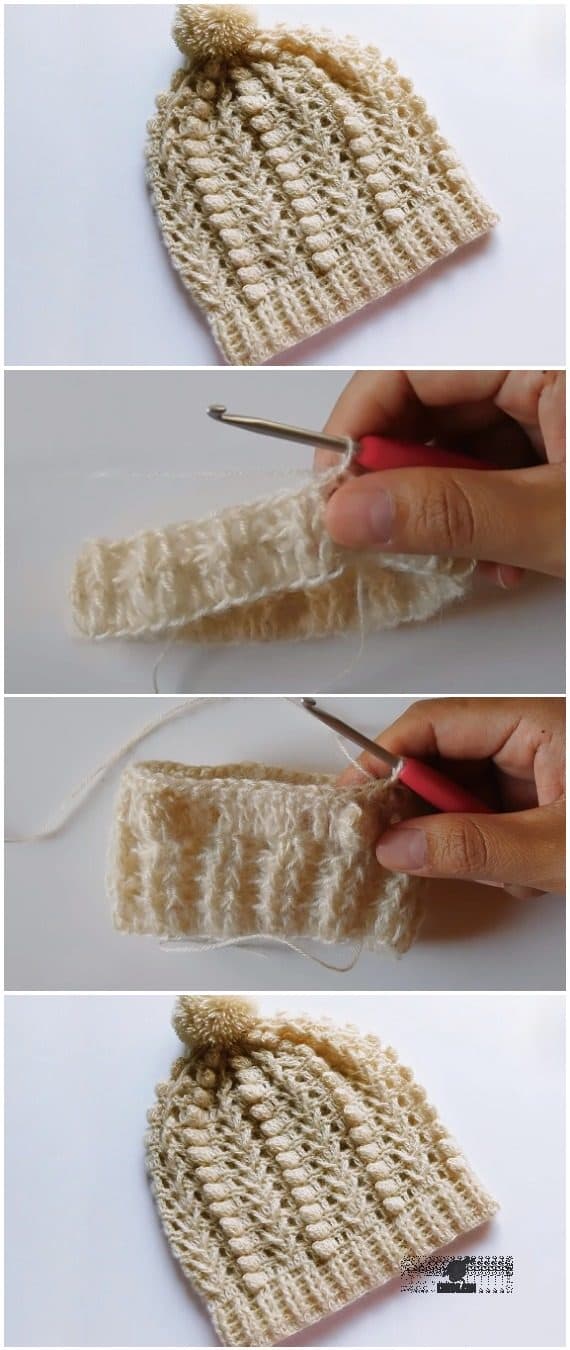 8. CROCHET BEANIE HAT BASKET WEAVE STITCH
This cute looking one is beret or the basket weave stitch pattern. This looks best on kids as well as grown up. Test out your skill to make it and share your design with us.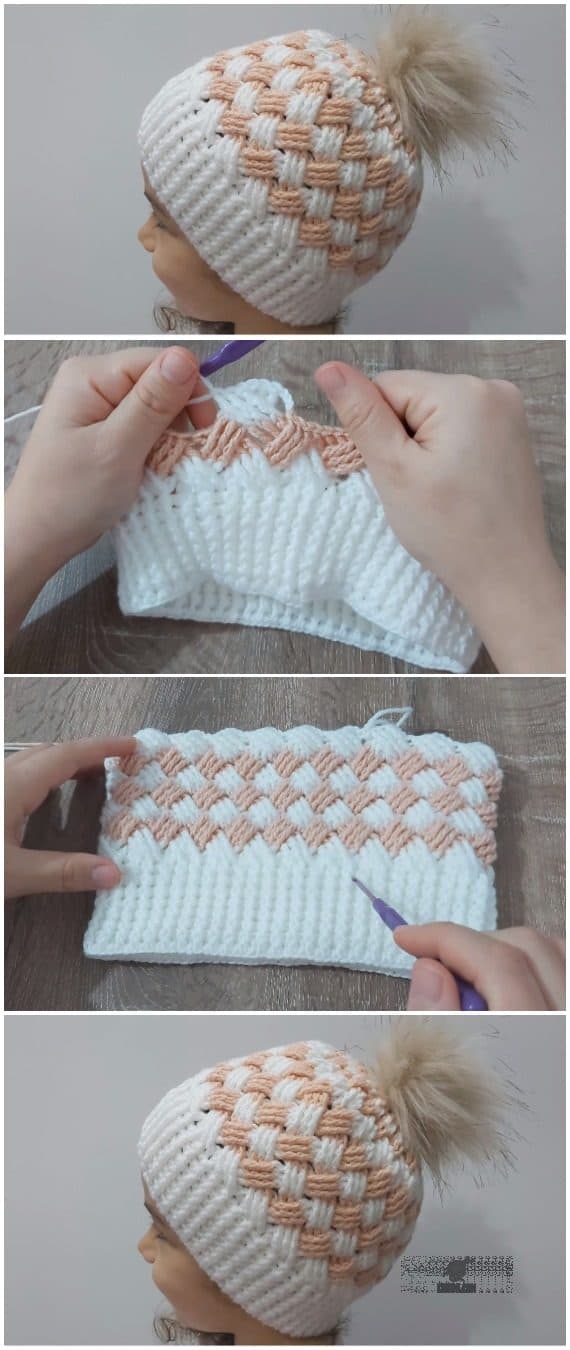 9. CROCHET WAFFLE STITCH BEANIE HATS
Waffles, Waffles~! Anyone? oh, look at that! A Waffle Beanie with a Pom Pom Pattern. Who wouldn't want it? This waffle stitch pattern is so attractive – we bet you'd make it before anyone else does.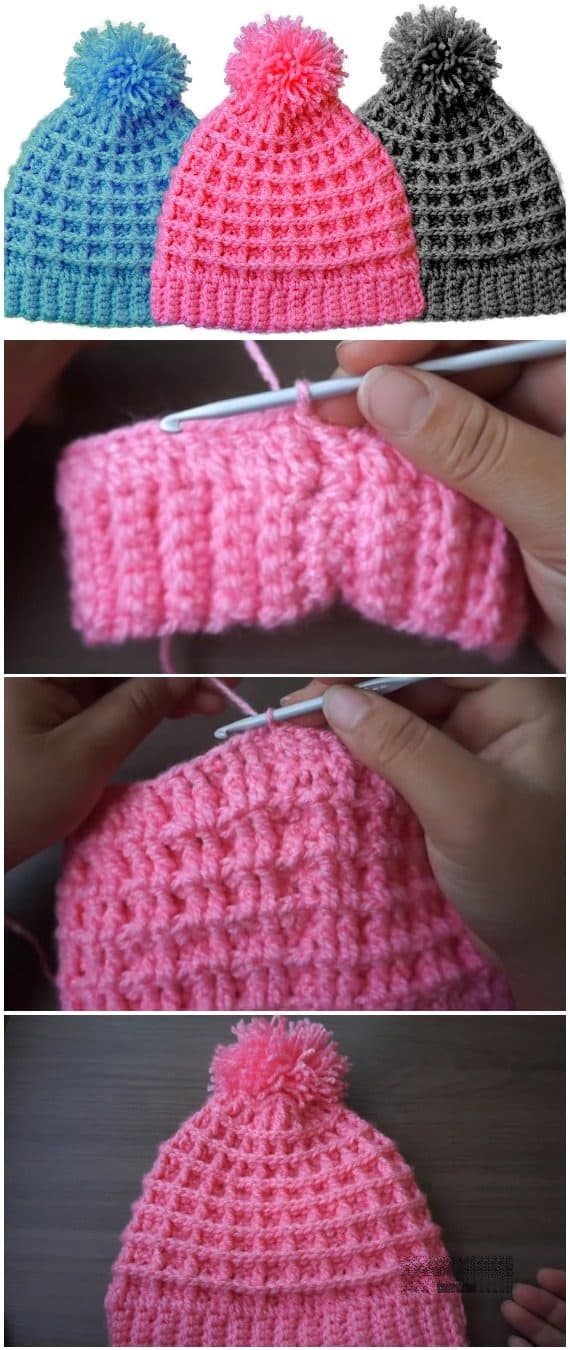 10. CROCHET WOMAN'S PINK HAT BUBBLE STITCH
Such a Pinkilious Bubble design with tremendous energy radiating from it. With looks that of a lucky charm – and pattern as simple it is.