Hey there! Are your hands feeling chilly and in need of a trendy and stylish solution? Well, we've got you covered with this fun and practical project that you can whip up in no time! We're talking about making your very own crochet fingerless gloves or hand warmers, my friend!
These fingerless gloves are designed to not only keep your hands toasty warm but also cover your wrist and forearm for added protection. They're the perfect accessory for those crisp Fall, Winter, or even chilly Spring days. Plus, if you're feeling like you want to switch things up, you can easily button them into mittens by fastening the buttons between the two layers of crochet stitches.
And the best part? We've got 10 awesome free crochet fingerless gloves patterns for you to choose from in this post! So, what are you waiting for? Let's get crocheting and keep those hands warm in style!
What are fingerless gloves called?  
 Crochet or knitted fingerless gloves are often referred to as "fingerless gloves," "fingerless mittens," or "wrist warmers." They are gloves that cover the hand and wrist but leave the fingers exposed, allowing the wearer to use their fingers while keeping their wrists and hands warm. They are typically made by crocheting or knitting yarn or other types of fiber into a shape that covers the hand and wrist, with openings left for the fingers. They are popular for use in cold weather, providing hand warmth without compromising finger mobility. These gloves are often worn in cold weather to help keep the hands warm while allowing the wearer to use their fingers for tasks such as typing or playing musical instruments. Some people may also refer to these gloves as "gloves with fingers cut off" or "half gloves."
Crochet Fingerless Gloves and Hand Warmers
 Whether you are a beginning crafter or an advanced one, crochet fingerless gloves are very easy to make. You can keep your hands warm while still typing, texting, or tying your kids' shoes while wearing fingerless gloves! 
Crochet hand warmers and gloves can be customized to different styles, colors, and lengths.
Keep making those hand warmers after you make your new favorite ones for yourself! Knitted hand warmers also make beautiful gifts. Further, they're ideal for craft fairs in the fall and winter.
Crochet Techniques to Know for Fingerless Gloves
Several crochet techniques can be used when making fingerless gloves, typically in the round or back and forth in rows.
You'll need to know basic crochet stitches like the chain stitch (ch), the single crochet (sc), the double crochet (dc), the half double crochet (hdc), the slip stitch (sl st), and the treble crochet (tr).
In addition to working in the round, seaming, and increasing and decreasing, fingerless gloves and hand warmers can also be crocheted in the round.
You can learn crochet from scratch or brush up on your skills by looking at our complete guide. This tutorial will teach you everything you need to know, from holding your yarn and hook to working with different crochet stitches.
What You'll Need
Crochet fingerless mitts typically require the following:
Yarn (worsted weight yarn works well for this project)

Knitting needles (size 7 or 8 US needles work well with worsted-weight yarn)

Scissors

Tapestry needle
How much yarn would I need for a pair of fingerless gloves?
It takes about two skeins of yarn to crochet most fingerless glove patterns. Therefore, check your pattern to see how much yarn you need.
Which yarn is best for crocheting fingerless gloves?
It is possible to crochet fingerless gloves of all different yarn weights, from fingering to bulky. Most patterns, though, will recommend worsted or Aran weight yarn. Wool-Ease yarn from Lion Brand and Red Heart Super Saver yarn from Red Heart are two of the most popular yarns for fingerless gloves. 
You may substitute a similar yarn of the same weight. For your gloves to fit correctly, make sure to check your gauge. 
Crochet Fingerless Gloves: Tips and Tricks
Here are a few tips if you're interested in crocheting fingerless gloves.
Select the right yarn for your project.
No matter what pattern you choose for your gloves, paying attention to the suggested yarn is important. Before choosing your yarn, make sure you take into account both the recommended weight and the fiber content.
Substituting yarns is always possible – check your gauge and use the same yarn weight.
Make sure the gauge and pattern sizes are correct.
You should always check your gauge, whether you use the suggested yarn or another, especially when knitting projects like gloves. Depending on how large or small your gauge swatch comes out, you may need to adjust your hook size.
Several of the patterns below include instructions for making gloves in multiple sizes. However, the best way to determine the correct size of your hand is to measure it.
For the cuff, use a stretchy stitch pattern, such as ribbing.
Most of these gloves have different stitch patterns on the cuffs (around the fingers, arms, and sometimes the thumb) than the rest. The most common type is ribbing. Mitts with ribs keep your hands snug without slipping off.
Check the fit of your gloves as you crochet.
Taking the time to make your own fingerless gloves allows you to test them out to ensure they fit correctly. In addition, removing or adding a few stitches is possible if the hand section is too tight or loose.
TOP 10 Free Crochet Fingerless Gloves Patterns
1. Easy Fingerless Crochet Gloves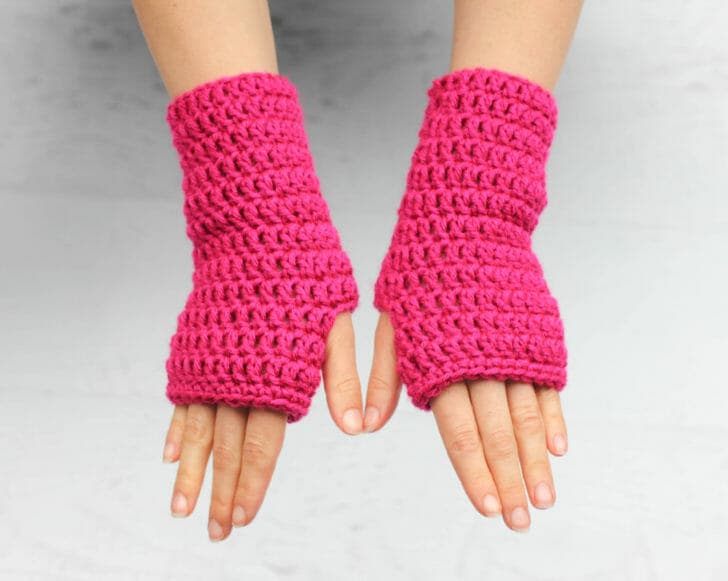 Materials:
One skein of worsted weight yarn.
Size H Crochet Hook
Tapestry Needle
Abbreviations:
Ch = Chain
Sl St = Slip Stitch
SC = Single Crochet
DC = Double Crochet
Fingerless Gloves Pattern:
Make 2. Both gloves work up the same way.
Chain 24, join to first chain to make a circle and chain 2. Be sure not to twist your chain.
Round 2-9: DC in each stitch around, join to first DC, chain 2
Round 10: (Here is where you will make the thumb hole) DC in first 20 stitches, chain 4 and skip the last 4 stitches. Join to first double crochet, chain 2
Round 11-12: DC in each stitch around, join, chain 2 on round 11 and chain 1 after round 12.
Round 13: SC in each stitch around, join to first SC, fasten off and weave in ends.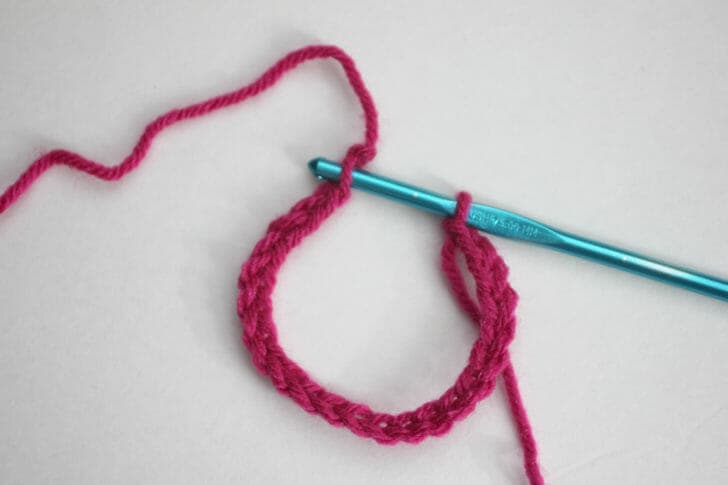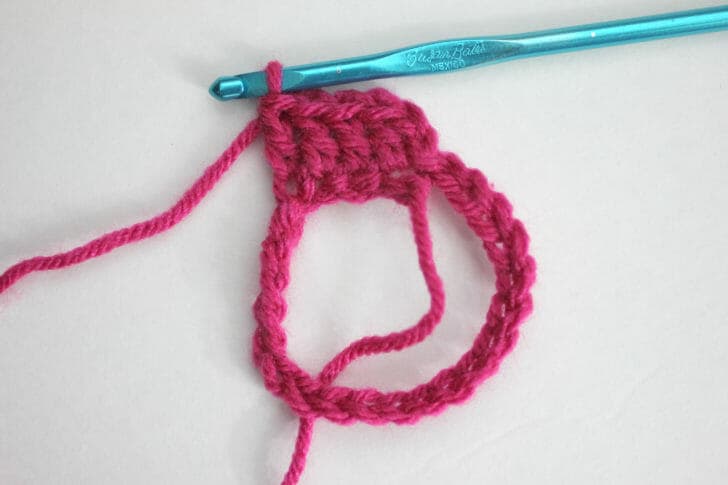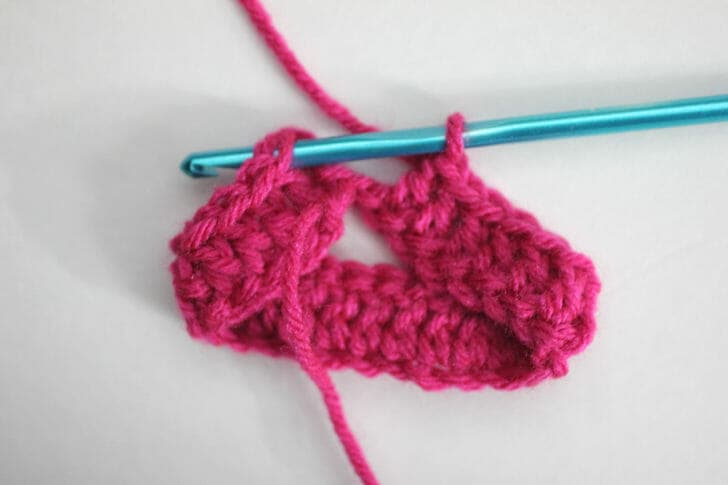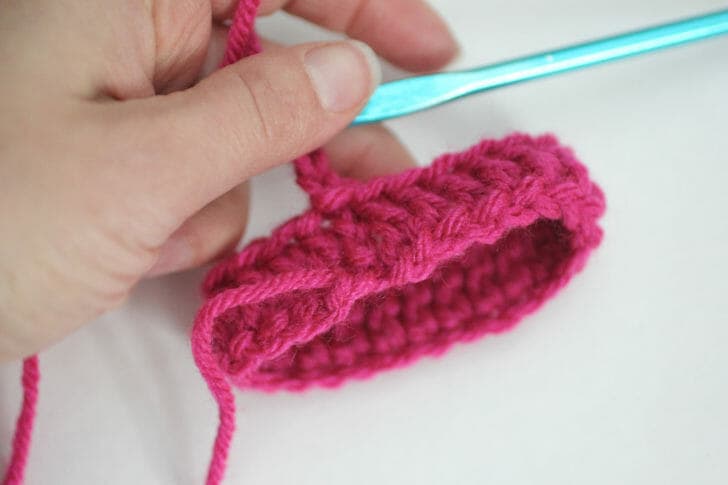 2. Fox Fingerless Gloves Crochet Pattern
Fox Fingerless Gloves are gloves that cover the hand and wrist, but leave the fingers exposed. They are often worn for activities that require the use of the fingers, such as typing, playing musical instruments, or handling small objects. Fox Fingerless Gloves may also be worn for style or to provide warmth in cold weather, as they allow the fingers to be exposed to the elements while still covering the back of the hand and wrist.
Time to warm them and get warm!